The Bruce Gallery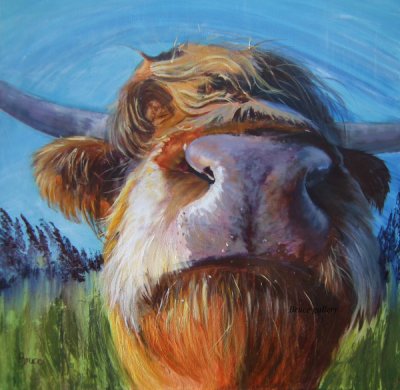 Cow artist, the Bruce Gallery


Home Page



Cow artist, the bruce gallery isle of mull uk Cow artists, landscape, i give it a year

One might wonder why a cow artist became a cow artist. It is a surprising and unexpected subject to paint, but many artists have discovered that what starts off as a simple experiment, or a whim, becomes a trademark, changing an artist into a cow artist in hardly any time at all. The one experimental painting might receive huge amounts of praise and positive feedback, which would lead the not-yet cow artist to paint a whole exhibition of cows, which then might sell quickly. The artist, by that point, is probably truly beginning to fall in love with painting their newfound subjects, and thus is born a cow artist! Cow artists are incredibly popular now, with Cow artists showing up in galleries all over the country and indeed the world.

Many artists that focus on cows also do paint other animals, whether restricted to farm animals or extending to wild animals as well, but the cow artist finds themselves returning again and again to the strange personality of the cows. Many people doubt the differences in personalities of cows, but a good cow artist can capture their character, usually in portrait style, getting closer and representing the various facial expressions, intelligence and inquisitive nature of the animals. For someone who is not a cow artist, it all seems a bit farfetched, until they first are drawn into the painted portraits, revealing the subject as a complex character much the same way as we are! Cow artists are becoming more and more popular in this day, and yet no one can quite put their finger on why Cow artists are so appealing. There is no specific type of cow that is more popular than others, in worldwide terms - there are paintings of Holsteins, and Herefords, jerseys and longhorns, Highland Cattle and even buffalo. Some cow artists paint realistic animals, some paint colourful abstract, some are humorous, some are melancholy, and some are just simply a cow portrait in profile.

Many cow artists place their subjects in natural surroundings; usually fields with sunny blue skies, or occasionally in farm yards, but some cow artists prefer a much more 'pop art' approach, and might include bright geometric backgrounds to the portraits, really pushing the cow out of the canvas.

Of course there is a totally different kind of cow artist which includes the famous Cow Parade, which is a very well-known exhibition asking cow artists and non-cow artists to paint their cow with colourful designs and thought-provoking, stimulating art. There are more than six thousand different cows in the history of the Cow Parade, from more than six thousand five hundred cow artists. Most of the proceeds from the Cow Parade are donated to charities, specifically those aimed at young people. The cows have been hugely popular since they started in 1998, and once again no one can quite say why the attraction to the cows in the first place.

Cow artists use a variety of different mediums to create their art, but painting on canvas, specifically with oil, seems to be one of the most popular. Paintings with acrylic and even watercolour are also common, as are photographs, line drawings, pencils and of course combinations of medium as well.

A very popular cow pose that a cow artist likes to represent is the cow nose-on, as it investigates what the cow artist is doing, or rather, trying to get in the way! The closer the cow is to the cow artist, or at least, the bigger the zoom on the lens, the more personality seems to come out of the cow into the painting and to the viewer.