The Bruce Gallery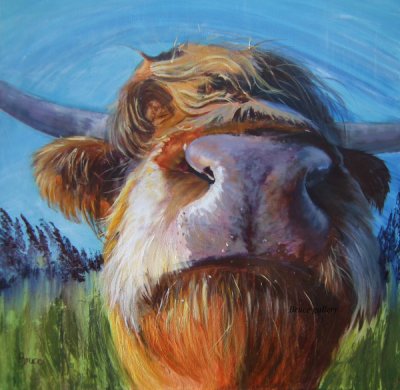 Cow painting, the Bruce Gallery


Home Page



Cow painting, I give it a year movie, cow painting in movie, rose byrne, stephen merchant, dan mazer, rafe spall, anna faris, isle of mull, graham bruce richards, sally bruce richards, highland cow painting, cow painting, nosey cow, the bruce gallery the cow lady, john marshall, james bartholomew, caroline shotton, georgina mcmaster jolomo,

Cow paintings have become more and more popular in recent years. It's not only cow paintings; other animal paintings are also well liked by the general public, but there is something endearing about cow paintings that draws people in, whether it is their personality, or attitude. There are so many different styles of cow painting, from the realistic to the abstract, and each person will be drawn to a different kind of cow painting. Cows are full of character, and the cow artist will strive to represent their personalities in the cow paintings they produce. Cow painting can be humorous, melancholy, intriguing, inviting or even a little menacing. Cow paintings are hung in any room in a house, and are eye catching wherever they are, with the cow drawing the viewer in to have a closer and more in depth look into the cows warm brown eyes.

Each cow painting is slightly (or extremely) different from the next; the artist will usually vary something with each new cow painting, although perhaps using similar, favoured, techniques. Each different portrait, however, reveals a different characteristic of the cow, a different mood, a different light, or a different expression on the bovine face. Cow artists tend to think of their cow paintings as portraits, aiming to capture not only the varied colours and textures of the animals' body, but more importantly the quirky expressions on their faces, capturing personalities and temperament.

Many cow paintings derive from photographs; the cow artist will often spend time in the fields with their future subjects, trying to capture a fleeting expression or a curious cow on camera, and then later in the comfort of home recreating the cow's character on canvas, either keeping the setting the same or using their imagination on the cow painting to place the cow in any location that they want to, from carnivals to barns, to kitchens or just simply on plain backgrounds.

From the earliest times we can see that our ancestors painted cow paintings on the walls of their caves - not the cow paintings that we create today but very simple line drawings of aurochs - the cow's ancestor, or buffalo. Although these cow paintings were possibly made for other reasons, such as story telling or recounting of legends, it can't be denied that some of the cow paintings are beautiful, and the kill of the artists is indisputable. Some theorize that the appeal of cow painting now stems back to the fact that cows were one of the early domesticated animals, but most artists will simply tell you that it's because they are full of character, with such complexity and depth, constantly surprising you with their varied expressions and interactions.

When painting cows you need to make sure you show the distinction in the subject, as no two cows are alike - and you need to make sure you represent it as a unique character, with great attention to detail, which helps to represent the diverse character, personality, behaviour, mood and attitude in your cow painting. Medium can vary depending on the artist, but deliberate use of varied colours and composition are imperative for representing the cow's personality. Cow paintings can also vary greatly in composition but many artists prefer to either paint close up portraits, often with the cow nosing the artist or photographer, or if not a close up portrait, then a cow painting representing some sort of social interaction between cows. A popular cow painting pose is a group of five or six cows all huddled together, investigating the artist together, looking like a curious wall of cows.