The Bruce Gallery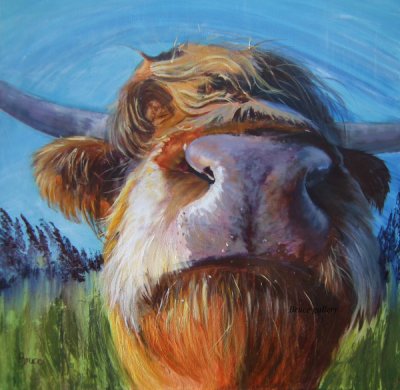 highland cow picture, the Bruce Gallery


Home Page



highland cow picture, the bruce gallery isle of mull uk highland cow pictures, landscape, i give it a year

Highland cow pictures - or heilan' coos, as they are affectionately known - are hugely popular, not only with tourists but also with people who live near highland cattle and see them regularly! If cow paintings are full of personality and intrigue, highland cow pictures are even more so. The majesty of highland cattle is undisputed, and the appeal of the shaggy, dishevelled, often rain-soaked cattle is widespread. Highland cow pictures are full of character, the cows themselves often hinting a sense of mischief in their eyes. The imposing horns make them look even more intimidating, and yet at the same time a highland cow picture is inviting and appealing for the viewer.

The Scottish Highland Cow is such a distinctive animal, with the beautiful spreading horns and shaggy brown, black, or even red, wavy, flowing coats of hair. Despite their intimidating appearance, highland cattle are known to be incredibly gentle and intelligent animals. An artist painting a highland cow picture can expertly represent this gentle intelligence with skilful interpretation of their facial expressions. Their beautiful big brown eyes are framed by long eye lashes and often partly covered by forelocks, giving them the facial expression of a small inquisitive toddler. Highland cow pictures are so intriguing because the cows expressions vary so much, giving the artist the ability to represent sadness, joy, mischief, curiosity, boredom or amusement in the painting.

Highland calf pictures are also incredibly prevalent, with the fuzzy infant often snuggling up to its mother in the picture. Highland calves are irresistible, looking much like an oversized, cow shaped teddy bear, and they are a fantastic subject for a highland cow picture.

When painting or drawing a highland cow picture, it is important to pay attention to the proportions of the animal, to truly represent the highland cow. The head is very broad between the eyes, but from the eyes to the point of the muzzle it is very short, in comparison to other breeds of cow. The forelock is particularly important and should be long and busy, usually partly obscuring the eyes of the animal. The horns are incredibly noteworthy, and it's worth remembering that in a bull, the horns usually come out level with the head and angle down before rising at the points, whereas in the cow, the horns are usually angled up and rise sooner, although are not usually as thick or sturdy as a bull's horns.

Another important feature of a highland cow picture is the neck and shoulders should be strong and straight back from the head. In bulls there is the distinct crest that is common to all males of the bovine species. A highland cow's back is straight and strong, without any dips or hollows. Their legs are strong, straight and very broad, and also covered in hair. The hair is of course the aspect that allows for the most artistic representation in a highland cow picture, the only requirement being that there is a lot of it! The hair is usually long and wavy, without curls, in black, red, yellow, brindled or dun. If drawling a highland cow picture representing a whole herd of cattle, it is often desirable to include a mix of colours, as is common to many herds.

A visitor to Scotland is almost guaranteed to buy some sort of highland cow picture, whether it is a small postcard or a large original oil canvas painting, or perhaps just some photographs taken by the tourist themselves. The sweet tempered and unique looking animals are just irresistible to visitors, and a souvenir of their beautiful character is a necessity.